Truck Mounted Steam Cleaning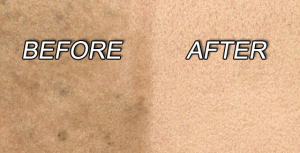 The maximum size of a room is 200 square feet.  Combined living/dining room count as two rooms.  A $20 waste handling and fuel charge applies to Edmonton, St. Albert and Sherwood Park areas. Areas outside of these limits start at $25 and increases with the driving distance. If your carpets are heavily soiled or have a lot of stains/spots to be removed, extra charge will apply. Not all stains can be removed.  Please contact us with any questions.

Carpet Cleaning Special Prices
The listed prices are for houses/duplexes/townhouses. Please call for Apartment/Condo Pricing.
Standard Cleaning
Extra room: $30
Stairs(Up to 14 steps): $45
Hallway: $15
Walk-in closet: $10
Waste handling and fuel charge: $20
Green Cleaning
Extra room: $30
Stairs(Up to 14 steps): $45
Hallway: $15
Walk-in closet: $10
Waste handling and fuel charge: $20
Edmonton
Sherwood Park
St. Albert
Fort Saskatchewan
Stony Plain
Spruce Grove
Beaumont
Others
We are trusted company with many years experience
Our staff is IICRC certified and trained to the highest level
Powerful truck-mounted equipment
100% customer satisfaction guaranteed
We specialize in the best carpet cleaning available
Our products are toxin free and safe for children and pets
Your home will not only be cleaner but also healthier
No hidden charges
Edmonton's Premier Carpet Cleaning Company
At Beyond Carpet Cleaning, a family-owned business, going above and beyond to ensure that our customers are completely satisfied is the foundation of what our company was built on. We genuinely enjoy and are proud of the long-lasting relationships that we have developed with the thousands of residents in Edmonton and the surrounding area who have welcomed us into their homes. Our exceptional approach to, and passion for Carpet Cleaning Edmonton has been at the heart of our strategy for building and becoming Alberta's top rated cleaning company.
We believe that a healthy home starts with clean carpets. Nothing cleans more thoroughly, or protects your investment better than the revolutionary, patented and GREEN cleaning system. Our professional technicians use the patented cleaning system to solve the industry's top concerns:
Reappearing traffic lanes and spots after cleaning; our system does not use soaps, harsh detergents or shampoos to clean, but instead, an innovative, non-toxic water based cleaning agent that leaves zero residue – zero residue means cleaner longer!
Wet carpets after cleaning; our system cleans without flooding your carpets with detergents and water, which means short dry times.
Trained technicians who are professional, clean and respect your home.
As a professional carpet cleaning company based out of Edmonton, Alberta, our goal is to provide you with the best service. We will make sure that after your carpets are cleaned by one of our service technicians, you will have a fresher, cleaner, and healthier home or office. The complete feel of your home or office will be different with the simple cleaning of your carpets.
It is very important to clean your carpets every 6 months to 1 year because of indoor air pollution that is a concern for everyone, but especially someone who suffers with allergies or asthma. Every day, we are bringing unwanted pollutants into our home: car exhaust, pesticides, chemicals, cigarette smoke, asphalt, tar, soot, bacteria, dust and pollen. There is also human skin, hair, pet dander and dust mites. Cleaning your carpet regularly gets all those pollutants out of your carpet and therefore greatly reduces the incidence of them in your home. Our state of the art carpet cleaning methods can eliminate the dirt and allergens that live in your carpet and help improve your family's health.
With over 9 years in business Beyond Carpet Cleaning is an expert in removing dirt, stains, and dust from your condo, apartment, house or office carpet surfaces. Our staff is highly skilled and thoroughly trained in using our advanced equipment. We also pride ourselves in having a professional and friendly staff that aims to please. They know that heavy shampooing and detergents can actually cause further damage to your carpets precious fibers, but also realize how important it is to remove build up of smoke, oil and dirt. Our technicians can and will inspect your carpet for problem areas that you may not even be aware of. We also offer several different deodorizers and offer to use ScotchGard which protects soil and dirt from being absorbed into the carpet fibers. We steer clear of toxic chemicals that many carpet cleaners use and focus on your family's health before anything else.

The return of spots? – Over wetting of carpet? –
The Bait & Switch techniques?.
Ask yourself – Are you tired of unprofessional appearance? – Huge appointment windows?
Reasons you will Love Beyond Carpet Cleaning Services!!!
Helps promote good health and stays cleaner longer for a better return on your investment. (all products are child, pet, and environment friendly)
Our procedures and equipment removes allergy causing pollens and spores as well as kill most germs, bacteria and dust mites on contact. In the process, we remove them from your home!
2 hour window appointments.
Price is given before work is started.
Long lasting deep clean of 100% of your carpet's yarn, not just the surface. Prolongs carpet life without over wetting.
FREE clean water / neutralizing rinse just like the major manufacturers require, leaving no residues or chemicals in your carpet.
One stop floor care in one company.
We specialize in cleaning carpets and upholstery , pet urine and odor removal, stain removal, tile and grout cleaning and area rug cleaning.
Property managers, banking, medical and commercial accounts – Please call and ask about our commercial volume rates.
Customer service is our number one priority, and we want to be your carpet cleaning company for many years to come. We look forward to speaking with you, so call us today at 780-708-1590 to schedule a cleaning appointment!